Embassy News
Opening Ceremony of the Cambodia Festival 2018
On 03 May 2018, in collaboration with Cambodia Festival Committee, Cambodian Students Association, and Cambodia-loving Japanese, the Embassy held the opening ceremony of the Cambodia Festival 2018 at Yoyogi park, in Tokyo, Japan, with the participation of H.E. Mr. Manabu HORII, Parliamentary Vice Minister for Foreign Affairs, H.E. Mr. Yukio IMAGAWA, Former Ambassador of Japan to Cambodia, Ambassadors of ASEAN Member States, Cambodian people living in Japan, students and Japanese distinguished guests.
Cambodia Festival 2018 was held for two days on 03-04 May 2018 at Yoyogi park in Tokyo, Japan, by showing Cambodian traditional dances performed by dancers from the Ministry of Culture and Fine Art of Cambodia and Cambodia's martial arts Kun Bokator along with pavilions showing Khmer cuisines, cultures, tourism in order to promote Cambodia's arts, cultures, tourism and images in Japan. The people attended the two-day event approximately 100,000 persons.
In her opening remarks, H.E. Ms. Ambassador highlighted efforts of the government of Cambodia and Japan to promote bilateral relations to a new height for the common interests of the two countries, emphasizing importance of the Cambodia Festival 2018 which is one among a series of events to deepen and strengthen firm traditional long last lasting cooperation and friendship between the two countries while the two countries are commemorating the 65th anniversary of diplomatic relations and the 5th anniversary of Strategic Partnerships between the two countries in the year of 2018.
H.E. Ms. Ambassador took this opportunity to express heartfelt thanks, on behalf of the Royal Government and People of Cambodia, to the government and people of Japan for their contribution to the Cambodian peace process, the continuous support of the reconstruction and development of Cambodia and democracy-building in Cambodia which have helped develop Cambodia in all fields so far under the wise leadership of Samdech Aka MohaSenaPadeiTecho Hun Sen, Prime Minister of Cambodia.
In his remarks, H.E. Mr. Manabu Horii, Parliamentary Vice-Minister for Foreign Affairs, noted with satisfaction that the Cambodia Festival is held here in Yoyogi Park since 2015 and it is getting bigger gradually every year, which not only results from the hard work of Cambodian people living in Japan but also clearly shows the growing interest of the Japanese people in Cambodia. He added that even though this year commemorates the 65th anniversary of the establishment of Japan-Cambodia diplomatic relations, Japanese and Cambodian have had a long history of people exchanges for more than 400 years while believing that the deep understanding between people and people has been and will also be the foundation for good relationship between the two countries.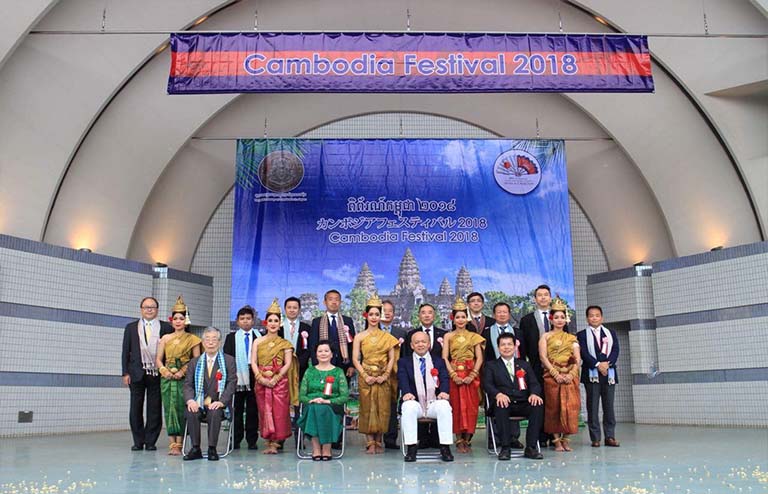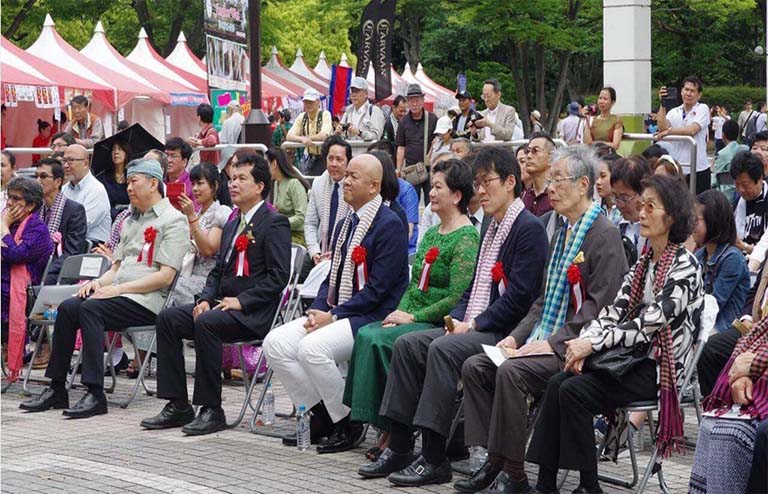 ---